M-20 Two Gourd Masks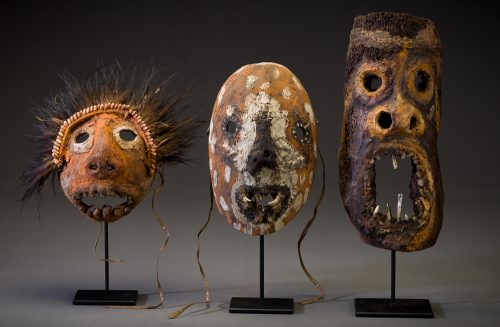 Masks
M-20 Two Gourd Masks
New Guinea Highlands.
a) Gourd mask with feather headdress, Kamano, Eastern Highlands. Representing bush or mountain spirits, used in traditional krina ceremony.  
b) Gourd mask, Bea bena, near Henganofi, Eastern Highlands. Representing spirits; some are said to represent the spirit that causes leprosy.
c) Mask made of fernwood, resin and pig teeth. This is a particularly expressive mask, conjuring up the fear of spirits as beings that can punish humans. Kamano people, Eastern Highlands.
a) 29 x 32 x 13 cm (SOLD)     b) 28 x 17 x 10 cm     c) 38 x 16 x 14 cm (Unavailable)
Make an Enquiry