O-12 Turtleshell Armbands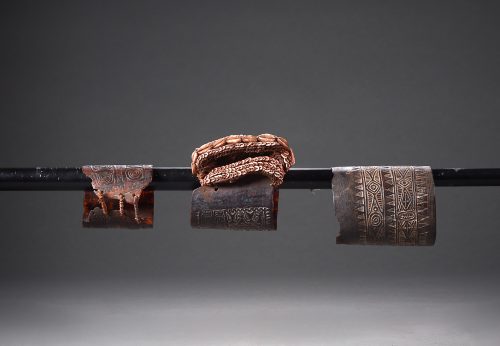 Other Oceanic
O-12 Turtleshell Armbands
North Coast, PNG.
The engraving on all three of these armbands is of the highest quality. All three are from the Sepik/Ramu coastal region, but they are also traded far up the Sepik River. These are used in ceremonies but also, so highly valued they can also be sued as "bride price" payments.
a) The smaller of the three, has large bold designs, primarily circular.
b) Fine engraving and a superb woven section, stiched with nassa and cowrie shells.
c) The engraving is fine and detailed with circles, chevrons and triangles in the most delicate combinations.
a) 11 cm diam x 13     b) 9 cm diam x 10 (SOLD)     c) 13 cm diam x 14
a) $800 c) $800
Size Various
Make an Enquiry