O-17 Three Basket Hooks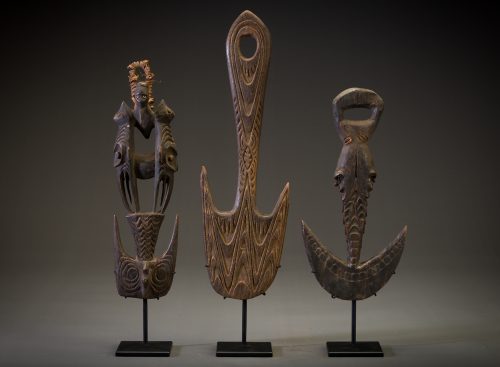 Other Oceanic
O-17 Three Basket Hooks
New Guinea.
a) Old basket hook, sambam, Middle Sepik ( Iatmul) hook, with double faces looking in opposite directions. The body of the hook is covered in crocodile motifs.
b) A simple old hook, Lake Sentani, West Papua, Indonesia, of very hardwood, covered in typical Sentani water/wind motifs.
c) Well-used basket hook, samban, Lake Chambri, Middle Sepik. Great detail; the most elaborate of the three hooks, with double faces and bird above, and fine engraving on the hook form.
a) and c) ex-Ed Boylan collection, Cairns, Australia, collected c.1969-70. b) ex-Australian collection.
a) 40 x 20 cm (SOLD)     b) 54 x 17 cm     c) 41 x 13 cm
b) $950 c) $1200
Size Various
Make an Enquiry